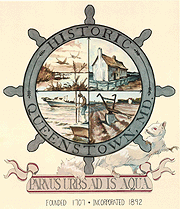 The birth of Queenstown in Queen Anne's County took place in 1707, and at that time was named "Queen Anne's Towne". In 1710 the name was changed to "Queen's Towne" and many years later the "e" was dropped and it became one word. Both Queenstown and Queen Anne's County were named after "Good Queen Anne" of England.
Queenstown was the home of the first County seat in 1707, and in 1708 the original Courthouse was built. The County seat remained here from 1707-1782, at which time it was moved to Centreville.
Today, agriculture and seafood harvesting are the dominant economic factors in our area. Retail shopping outlets, located in Queenstown, and the Queenstown Harbor Golf Links, adjacent to the Town, are thriving and bring many visitors to the Town.